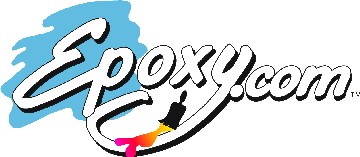 Epoxy.com Installation Guide #1
Epoxy Coating Installation
GENERAL INFORMATION FOR INSTALLING EPOXY RESIN SYSTEMS
Proper mixing and installation is critical to the best success of all epoxy products. This page is to help you find the right installation information that you need to install Epoxy Resin Systems.
Surface Preparation for Epoxy Resin Installation
All quality installation start with quality surface preparation. This guide will help you to know how to properly prepare your substrate for installation of Epoxy or any other high quality resin system. Improper surface preparation could turn what seems to be a simple process into a lengthy, difficult repair.
Do and Don't do with epoxy.
These guides will help you to not make the common mistakes that people do and the things the people don't do that can lead to a problem or even a failure of your epoxy resin installation.
Job Supplies Required to Install Epoxy Resin Systems
This list is a suggested list of the materials that you will need for most typical epoxy coating systems. This list is also useful for installing roller applied coating systems like Epoxy.com Chip Flooring.
Epoxy Installation Guides
Epoxy Chip Flooring Installation Guide. Floors have a special role to play in interior design. The heavy technical demands made on floors often make the use of certain decorative products simply impossible. The use of color chips can change all that! Color chips are increasingly being used in combination with "wet" products such as Product #315 Seamless Polymeric Multi-Colored Flake Chip Floor Resurfacing System to create decorative floors with more to offer than other ornamental products...Quality! This installation guide takes you step by step through the installation of Epoxy Chip Flooring Product #315.
Product #1 High Build Epoxy Coating 21-27 mils - All Purpose Epoxy Floor Coating Installation Guide.
Product #1 All Purpose High Build Epoxy Floor Coating a two component, zero (0) VOC, 100% solids epoxy Hi-Build epoxy coating used for high foot traffic and light to moderate forklift traffic areas where abrasion resistance is required; for protection against mild corrosion and as a decorative waterproof coating for walls, floors, tanks, etc. Installation Guide For All Purpose High Build Epoxy Floor Coating #1.
Product #1ESD/Conductive - Electrostatic Dissipative Epoxy Floor Coating Installation Guide
Conductive Epoxy Floor Coating Installation Guide - Product #1ESD Epoxy Coating System consists of Product #899 Epoxy Primer followed with one finish coat of Product #1ESD/Conductive Epoxy Coating. Product #1ESD/Conductive is available in pigmented finish only. Product #1ESD Epoxy Coating System will test in the "ESD" range, between 1,000,000 and 1,000,000,000 ohms electrical resistance when Product #1ESD/Conductive is applied over a non-conductive primer (or non-conductive bodycoat), and produces a 12-15 mil thick ESD floor coating system. This guide will take tell you how to install the Conduct Epoxy Floor Coating.