---
Epoxy Coating General Purpose
Epoxy.com Product #1
100% Solids Hi-Build Epoxy Coating - Zero VOC
---
EPOXY COATING DESCRIPTION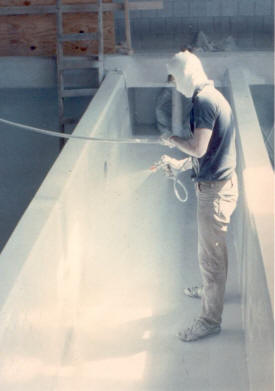 Epoxy.com Product #1 a two component, zero (0) VOC, 100% solids epoxy Hi-Build epoxy coating used for high foot traffic and light to moderate forklift traffic areas where abrasion resistance is required; for protection against mild corrosion and as a decorative waterproof coating for walls, floors, tanks, etc. It can be broadcast with appropriate silica sand (contact Epoxy.com Technical Support for a recommendation), to create a thicker flooring system in high abrasion situations.
EPOXY COATING ADVANTAGES
Moisture Insensitive
Ceramic like finish
Sprayable
Solvent Free - 0.0 lbs VOC
Waterproof
Extremely Durable
Chemical Resistant
SURFACE PREPARATION FOR EPOXY
Surface to receive Epoxy.com Product #1 All Purpose, 100% Solids, VOC free Epoxy Coating must be clean and sound. Remove all dirt, laitance, grease curing compounds and other foreign matter by sandblasting, or mechanical abrasion. Remove water and dust from all surfaces with an oil free blast immediately prior to application. See Epoxy.com Surface Preparation Guide form more details.
EPOXY MIXING INSTRUCTIONS
Temperature of Epoxy.com Product #1, VOC Free, All Purpose Epoxy Coating must be 50 °F or above at time of mixing. Stir each component separately before blending. Mix two parts by volume of Part A with one part by volume of Part B for three minutes with a low speed electric drill motor equipped with a mixing paddle.
EPOXY APPLICATION
Over Concrete surfaces Epoxy.com Product #899 Primer is recommended. Then apply Epoxy.com Product #1 All Purpose Epoxy Coating with a roller, brush, or spray equipment. Two coats are recommended. Thickness per coat should be 7-10 mils. Seven days cure time is required to reach maximum chemical resistance. For more information before installing please see installation tips at https://www.epoxy.com/install.htm.
EPOXY LIMITATIONS
DO NOT apply at temperatures below 40° F. Surface must be dry.
EPOXY SAFETY PRECAUTION
Prolonged or repeated exposure may cause eye and skin irritation. If contact occurs, wash immediately and seek medical help. Use safety glasses with side shields and wear protective rubber gloves.
EPOXY CLEANING
All tools and equipment should be cleaned before the system gels. Use MEK, Acetone, or any lacquer solvent
EPOXY APPLICATION PROPERTIES @77° F

Mix Ratio
2:1 By Volume
Viscosity (mixed)
950 CPS
Pot Life (200 gr.) in minutes @70° F.
30-40 (normal cure)
VOC Content
"0.0" (zero)
Set Time in Hours @ 70°F.
10-12 (normal cure)
Initial Cure
24 Hours
Final Cure
5 Days
Packaging Unit Size
3 gal. 15 gal.
Standard Colors
See Color Chart
Typical Coefficient of Friction-Rubber Shoe Surface with Epoxy.com Product # 50 Anti-skid Fine Non-Skid Added
ASTM F-489
Static Friction w/ Saltwater Solutions on surface
0.90-0.97
Static Friction w/ oil on Surface
0.72-0.75
Sliding Friction w/ Saltwater Solution on Surface
0.87-.090

Click the picture of color card below for a larger version of this picture of the color chart.
Please note: The picture to the right is a photographic reproduction of the color card for this product. The photo reproduction process and your monitor and/or printer will change these colors. This chart is to give you an idea of the colors available and not intended for critical color selections.

Epoxy.com Coating Installation Guide
Epoxy.com Chemical Resistance Chart for Epoxy.com Produc #1 All Purpose Epoxy Coating, set side by side with other commonly used Epoxy.com Coating Systems.
Other customers who visited this page also visited:
Download a spreadsheet in Microsoft Excel Format worksheets/CoatingsCalculator.xls